NewerTech Introduces NuStand 360 Aluminum Swivel/Pivot Desk Stand For Apple iPad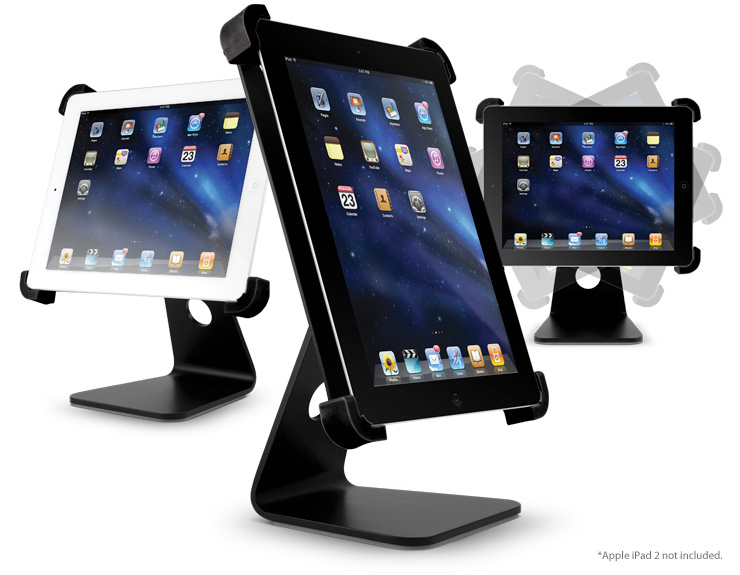 $59.95 MSRP Desk Stand with Weighted Base Offers Full Range of Motion
and Secure Viewing of Both the iPad and iPad 2
September 29, 2011, Woodstock, IL — Newer Technology, Inc. (NewerTech(r)) http://www.newertech.com,
a leading developer of Macintosh(r), PC, iPod(r), iPhone(r), and iPad(r) performance
upgrades and accessories, announced today its NuStand 360 Aluminum Desk Stand
for Apple iPad and iPad 2. With a friction damping, swivel-pivot design, the
NuStand 360 provides fluid and precise 360° iPad or iPad 2 positioning. Available
now for $47.99 from NewerTech's exclusive distributor, Other World Computing
(OWC(r)), the discount represents a savings of nearly 20 percent off NewerTech's
$59.95 retail price.
Spin, Tilt, And Angle
Whatever iPad/iPad 2 viewing angle is required, the Newer Technology NuStand
360's swivel-pivot design delivers a full range display. It can provide a portrait
mode for business presentations and a landscape mode for movie watching. With
a scalloped cutaway shape to provide excellent handhold points, the NuStand 360
is the ultimate accessory for driving games.
Works With iPad And iPad 2
Ideal for use in multi-iPad model user environments like homes and schools, the
NuStand 360's aluminum body uses removable silicone "blocks" to securely hold
either the iPad or iPad 2. A rear cutout on the body enables clean, nearly hidden
routing of a dock connector cable.
Built For Demanding Use
To remain stationary on the desktop, even in high traffic areas, the NuStand
360 features a heavy weighted base with an anti-skid rubber foot. And to keep
looking like new for years to come, the NuStand 360 is coated with a rubberized
black finish that's soft to the touch, yet highly scratch resistant.
"The NuStand 360 is the high quality, sturdy, and flexible display solution for
iPad and iPad 2," said Grant Dahlke, Brand Manager, Newer Technology Inc. "With
a thicker design and heavier weighted base than typical desk stands, the NuStand
360 keeps an iPad/iPad 2 safely displayed in any viewing angle."
Price, Availability
The Newer Technology NuStand 360 is available now from NewerTech's exclusive
distributor, Other World Computing (OWC), and through the retail channel. For
more details on the NuStand 360 and reseller inquiries, visit: http://www.newertech.com/products/nustand360.php.
For more information on NewerTech's complete line of accessories and upgrades
for Macs, PCs, and iOS devices, visit: http://www.newertech.com/products.